NEWS
Spring Piercing Sale
Exciting new Renovations at Dark Water
Dark Water Tattoos has recently done some remodeling. We took down the old stations, repainted the walls, and laid down a new floor. A huge THANK YOU to @waterlootattoo for the new tattoo stations! Check out the selection of stations Waterloo Tattoo Storage has available. And if you haven't seen the new look in the shop yet, be sure to stop by Dark Water Tattoos! We're open 7 days a week!
Dark Water Tattoos won 11 awards at the Immersed in Ink Convention this past weekend!
Congratulations to our artists Adam Aguas and Lo Lo for an amazing weekend at the Immersed in Ink Tattoo Convention in Tinley Park. They dominated the show and won a total of 11 awards. Adam took home 2nd Place Traditional, 2nd Place Medium Color, 1st Place comic/cartoon, Best of the Day Saturday and Sunday, and finally Best of Show. Lo Lo took home 1st Place Floral, 2nd Place Best of the Day on Friday, 2nd Place Oriental, 1st Place Large Black and Grey, and 1st Place Medium Color.
Congratulations Adam Aguas
Congratulations Lo Lo
Join us this weekend at The Immersed In Ink Convention
Come support our owner Jose Perez Jr., and our artists, Lo Lo, Dave Kline, and Adam Aguas this weekend at the Immersed In Ink Convention at the Tinley Park Convention Center, near 183rd Harlem.
Meet our new full time artist Adam Aguas
Adam Anthony Aguas was born in 1986 in Chicago Illinois. Adam has always had a deep emotional passion for art and exploring his creativity, drawing for as long as he could remember.
"All throughout my educational career I spent more time drawing in class than anything else. It's always taken me to a good place in my mind where all the chaos dissipates and calm waters reside."
In the summer of 2007 Adam picked up a tattoo machine for the first time and things were never the same. Tattooing has taken him to so many great places and has allowed him to meet so many amazing artists. He specializes in creating custom one of a kind tattoos for his clients. Putting every piece of him self in every sketch and tattoo, making sure no two are identical. From small colorful pieces to full sleeves Adam always has fun tattooing any style and putting his own unique "look" and style on anything he can.
Adam also enjoys using many different layering techniques in some of his tattoos, especially multi session tattoos. Giving a very unique look to his pieces that you cannot achieve in a single session, but still can do an amazing one session piece when possible.
"I love being able to layer pigment in the skin, giving a very luscious look to the color and shape of the tattoo. In the same way I would paint a canvas. Achieving this look is not a practice you see in many local tattooists with a few amazing exceptions. But when you take your time and exercise patience, it truly shows in the look of the tattoo as well as the healing and longevity. In the end I think that should be every tattoo artist's goal."
From paint and pencil to needle and ink, Adam's passion for his medium is one that is undeniable. He truly loves what he does, and will never stop creating as long as he is free to explore his imagination and go the extra mile for his clients.
Art Fusion Night 2013
Saturday, December 7th, Dark Water Tattoos hosted the Second Annual Art Fusion Night
For one night only, Dark Water Tattoos was transformed into an art gallery; the doors were opened to the public, welcoming people from near and far, original works of art created by the artists at Dark Water Tattoos hung from the walls, 5 artists worked on a one-of-a-kind collabortive painting, and of course we had an open bar.
Lo Lo, Full-Time Artist of Dark Water Tattoos
Lo Lo and Jose Perez Jr, Dark Water Tattoos
Cesar Romero, Lucky Kat Tat
Garrett Harper, Dark Water Tattoos
Thanks to the Artists who worked together to make a one-of-a-kind painting:
Carla Yesenia, Garrett Harper, Lo Lo, Jose Perez Jr, Cesar Romero
Collabortive painting is unique in its method of allowing a group of artists to work simultaneously on a canvas with little planning beforehand. The result is a creation that may often look like it is the work of a single artist and can not be replicated. Without each specific artists contribution the piece it would lack the one of a kind style that each artist is bringing to the canvas.
We want to thank all of the friends, customers, artists, and new faces who came out to enjoy the evening with us. We're looking foward to next years event!
End of the Year PIERCING SALE.
Mark your calendars for the end of year PIERCING SALE! $10 OFF any piercing! You won't want to miss this offer! It's the last one of the year! December 26th thru December 30th!
Congrats to Jose Perez Jr. for his 5 page feature in Inked Magazine
Be sure to check out the January 2014 issue of Inked Magazine for a 5 page feature on Jose Perez Jr.
New Sign
Check out the newest addition to Dark Water Tattoos. New Look, Same Great Taste.
2nd Annual Art Fusion Night
Please join us December 7, 2013 at 7 pm for our 2nd Annual Art Fusion Night.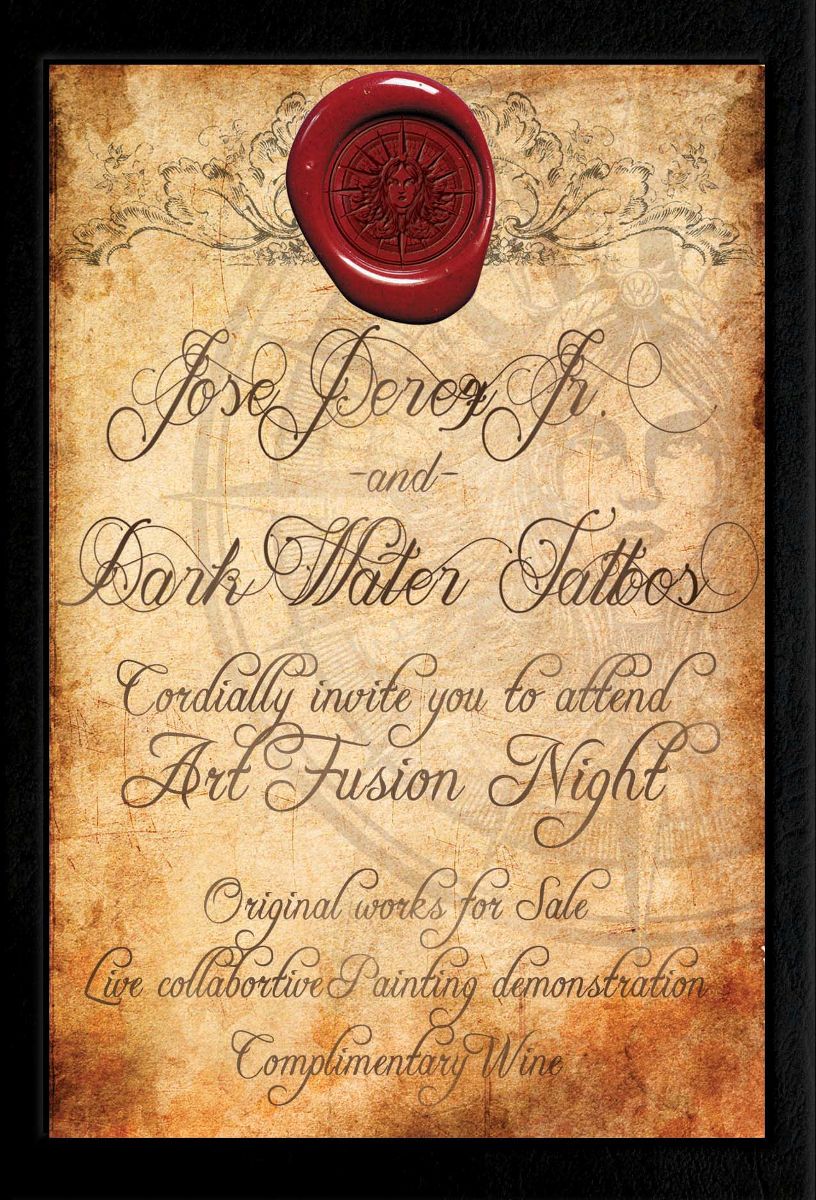 Cancer Ribbon Fundraiser
Dark Water Tattoos hosted a Cancer Ribbon Tattoo Fundraiser on October 25th to help raise money for Amanda and David's wedding. David was diagnosed with Osteosarcoma 3 years ago. He continues to battle this evil monster everyday. This beautiful couple has been together for over 6 years and dreamt of having a wedding to remember. With the help of the Dark Water Staff and clients, we helped raised $1247.00 for their wedding this past weekend on November 16, 2013. Thank you to all who attended and supported this event.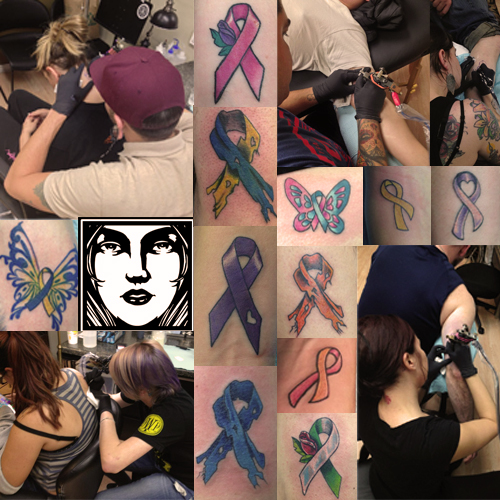 A special thank you to the artists and staff who donated their time and talents to make this event so successful: David Kline, Julian Hernandez, Brittany Banahan, Kim Morgan, Josh Herman, Annie Marino, Zander Reilly and Amy Wallace.
Here is the happy couple on their wedding day.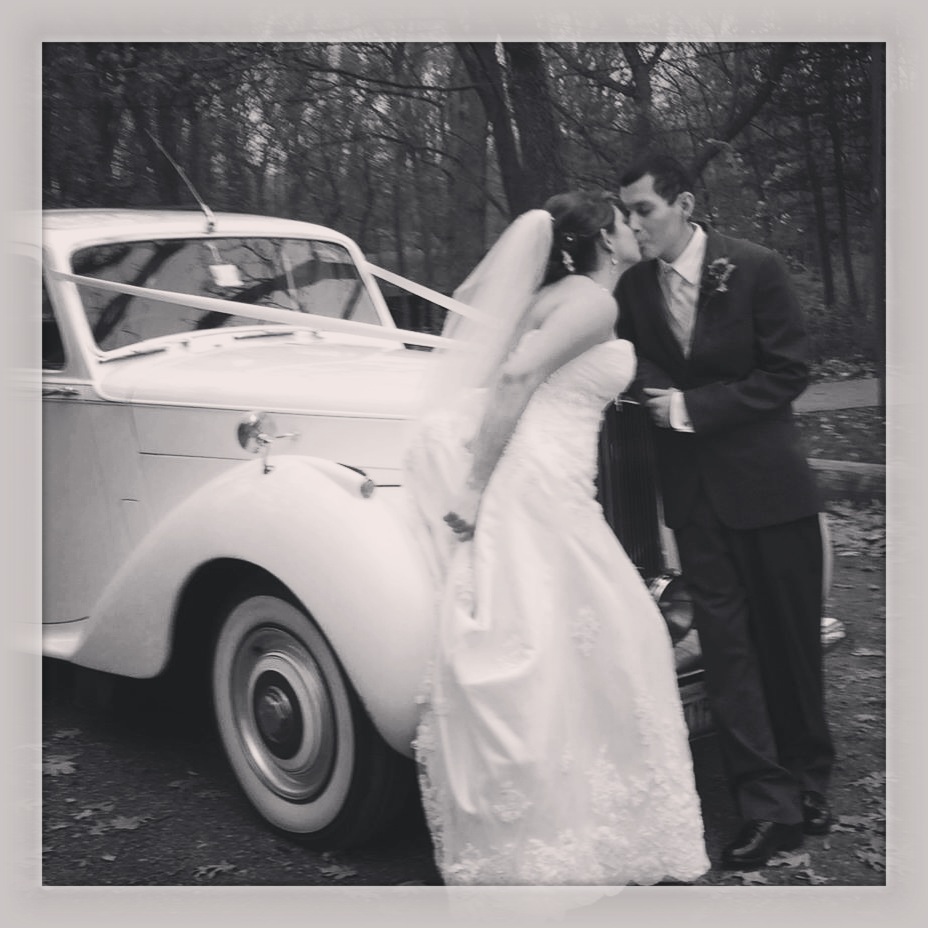 Importance of Surface Anchor Placement
Surface Anchors can be very convenient because they can be placed anywhere on the body where there is skin; almost anywhere you can imagine it, it can be pierced. Before choosing a spot to get a little gem placed, take some time to think about how often this new piercing can potentially get snagged throughout the course of a day. Keep in mind of your daily habbits, which side you sleep on, and common movements that may cause rubbing irritation on your new piercing.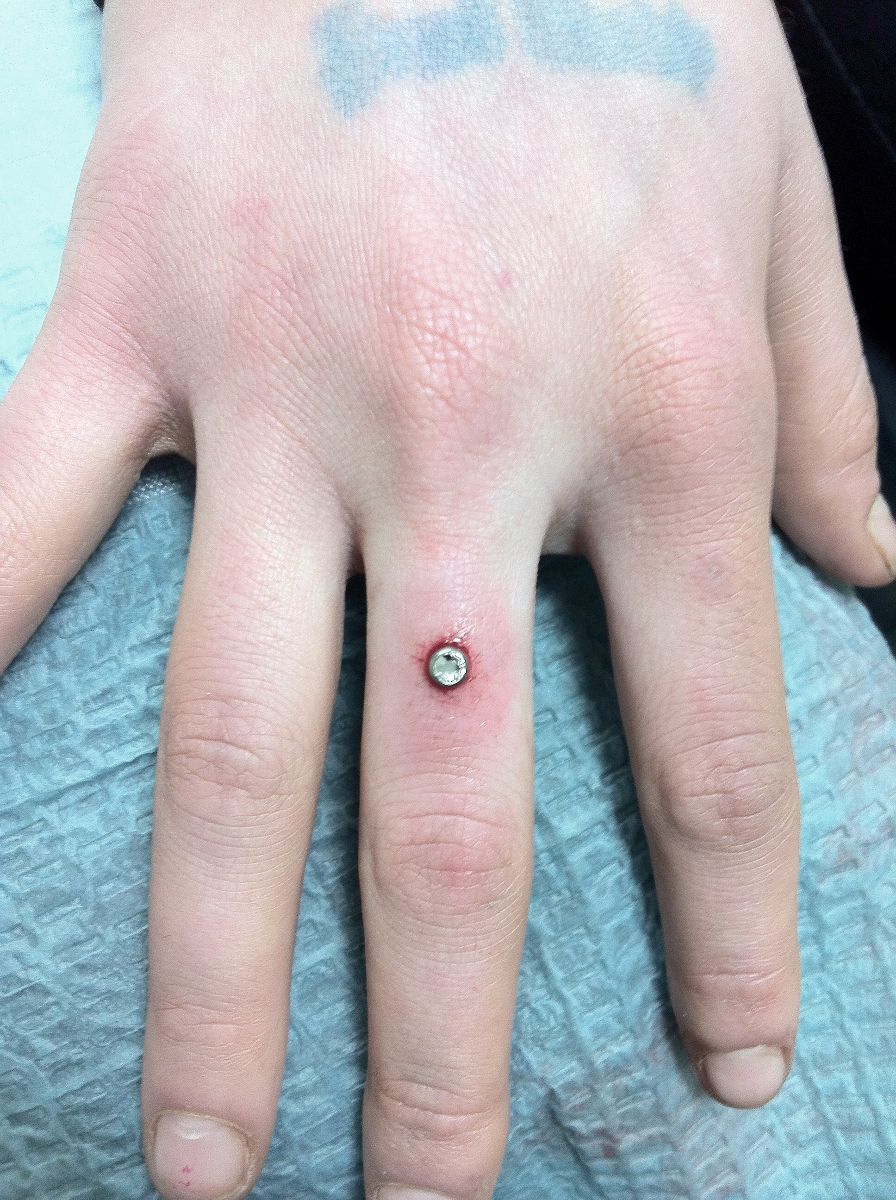 Keep in mind how often you use your hands throughout the day. Surface Anchors placed on the fingers, hands, and on the wrist are very likely to get snagged. You use your hands for everything, there is a lot of movement in the area, and there is a lot of risk of getting bacteria in the area just by doing everyday activities. The closer a piercing is to the hands, the less suggested it is to get it pierced there.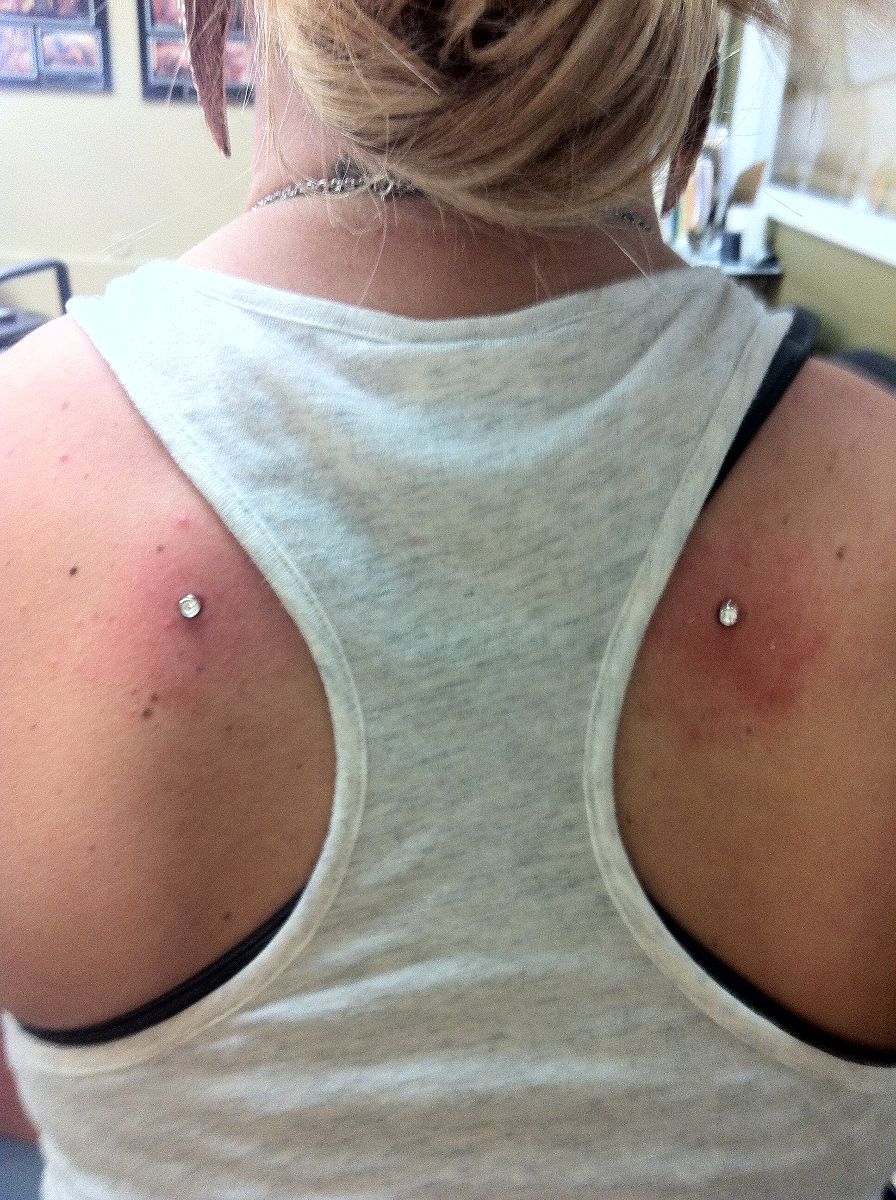 The healing proccess of Surface Anchors can take a little bit of time, and it's easier to take care of them if you can see and easily access your piercings. Getting these piercings on your back can be hard to reach. If you accidently snag your piercing, you will want to keep an eye on it to make sure it wasn't knocked out of place. If you can't check on your piercings a few times a day, there might be something wrong and you may find out too late. It's easier to live with your piercing when you can see it.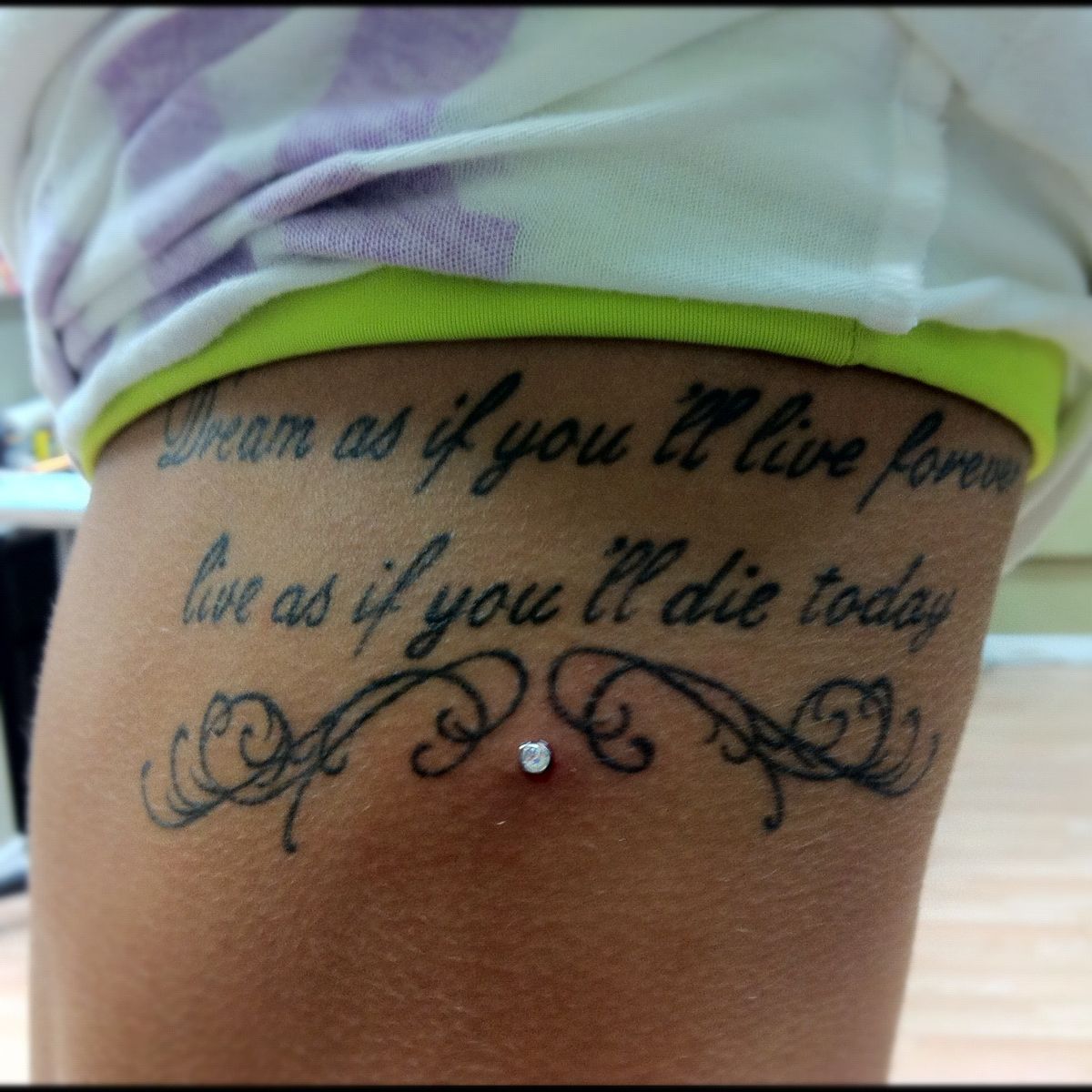 Be aware of where your tighter clothing sits that may cause a lot of irritation. Be cautious of how high pants usually sit, straps on tank tops, etc.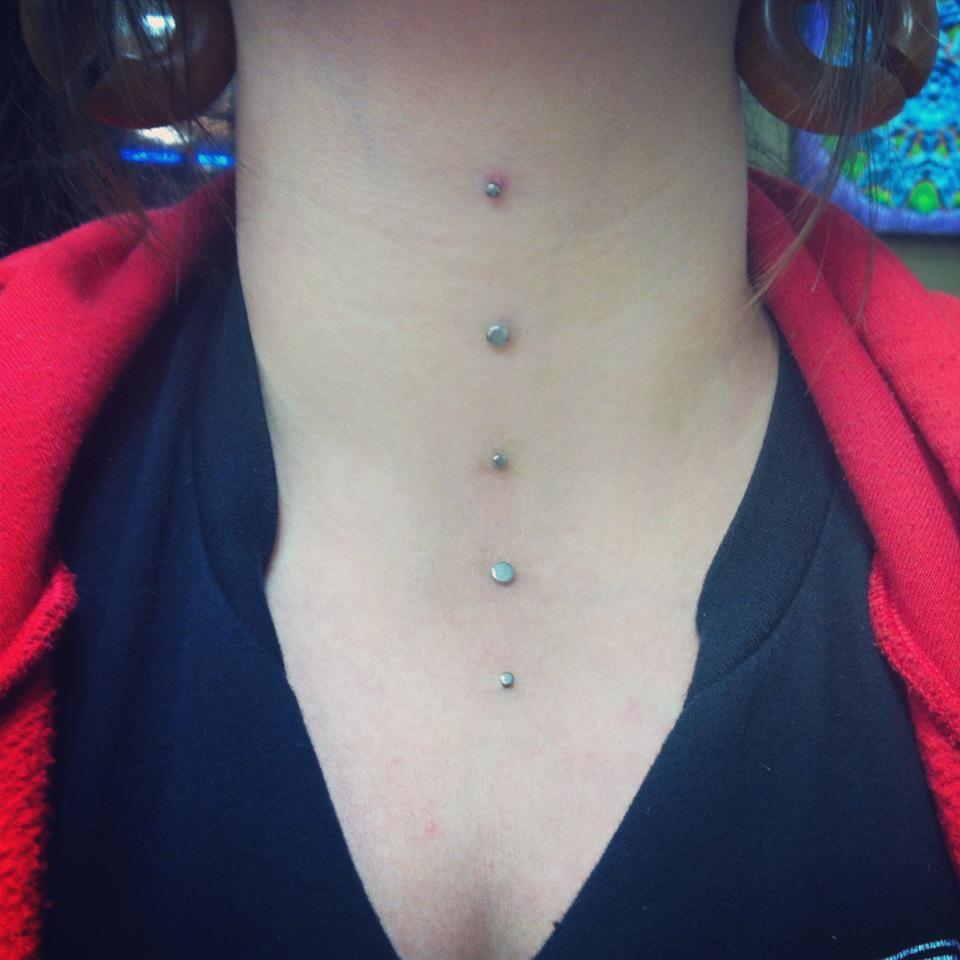 Areas with a lot of movement should also be kept in mind because it may be getting irritated every time you bend or turn.
Surface Anchors have proven to last a very long time in spots where they may be considered unconventional. It is up to every individual seeking new piercings how much they are willing to put up with. Knowing the risks beforehand makes it easier to handle than to find out too late.
-Brittany Banahan
Body Piercer
Tattooing Tips with Jose Perez Jr. LESSON 1: Portfolio Presentation
What's up guys, this is Jose Perez Jr. I want to take the time to share some knowledge and tips that I have learned in my past 9 years working in the industry. For those who don't know me, I'm self-taught for the most part so I had to learn my own techniques, tricks, and style so I had do all the wrong things before I learned to do the right things. I am always pushing myself to become better at my trade. For those newcomers, if tattooing is something you're pursuing and you want this to be your career, this is something to be taken very seriously. It should become one of your passions and be made a priority if you want to be succesful at it. There are a lot of sacrifices to be made, as there are with any successful career, so if you think you're ready, let's start with one of the basics.
First and foremost, one of the most important things to be taken into consideration if you want to be successful, is your portfolio. Your portfolio should consist of your best work. And don't get me wrong , It's good to showcase your best work, but there's no reason that your work can't be consistant and that all your work can be portfolio worthy. In other words- work hard on every piece and don't be, as I call it, a "hit-or-miss-artist". Don't half-ass your work if you don't like the idea, or if it's late and you want to hang out with your buddies, or if you went out drinking till 5 a.m. the night before and you're hung over, or if you receive a bootie call in the middle of your tattoo and can't concentrate anymore. If you fall into these habits you're probably not going to be the best at your trade. No matter what happens during your tattoo, you need to stay focused and always have a great work ethic so working hard allows you to play hard as well. Just remember that working hard comes first.
If you don't already have an extensive portfolio, your main focus should be creating one. In this industry, it's 100% about visuals. You want to be able to showcase the work you can do. Sure you can still stay busy in our industry but you will have to be a great salesman. If you have the work and the great pictures to back it up, your work will sell itself and you dont have to convince your client in how skilled you are. Your work will speak for it self. Always think about your client and your piece being a walking billboard and you only want to present the best for advertisment.
For photographs I usually take between 70-100 pictures of each tattoo. The reason I take so many is to insure that you have options to choose from because some times you will get blurry pics, funny lighting, or glares that wash out your pics. You also want to get all angles, especially if it is on a part of the body that wraps around. That way you can showcase each side of the tattoo because it is on a 3d canvas. Take time to find a good spot in your shop or tattooing location with good lighting, or set up a designated area for photographs. Never use a flash and try to avoid a reflection on your tattoo, or the contrast will look washed out. Anything solid black will look like greywash and fall flat and faded. That's not what you want to showcase because it does not represent your best work. A tip to get rid of glare that I've used for years now is to make sure you wash and clean your tattoo really well with green soap, or h2ocean foam, or water, and remove all the leaking plasma. When you do that, get a dry paper towel and dry it gently. Then you have a 5-10 second window to take the picture. This removes most of the glare. Once the tattoo starts to look shiny or ooze again, you need to repeat the process. It sucks that you only have a small window to get that photo but it is important to ensure that you represent your work accurately. Outside photos can also provide great natural lighting, it's best to take them the next day if your client is willing to come back, because the redness of the fresh tattoo goes down. It is important to not stand in direct sunlight or again , it will make your work look washed out. The best place to stand is inside the shadow of a building, with the sun positioned behind the tattoo itself.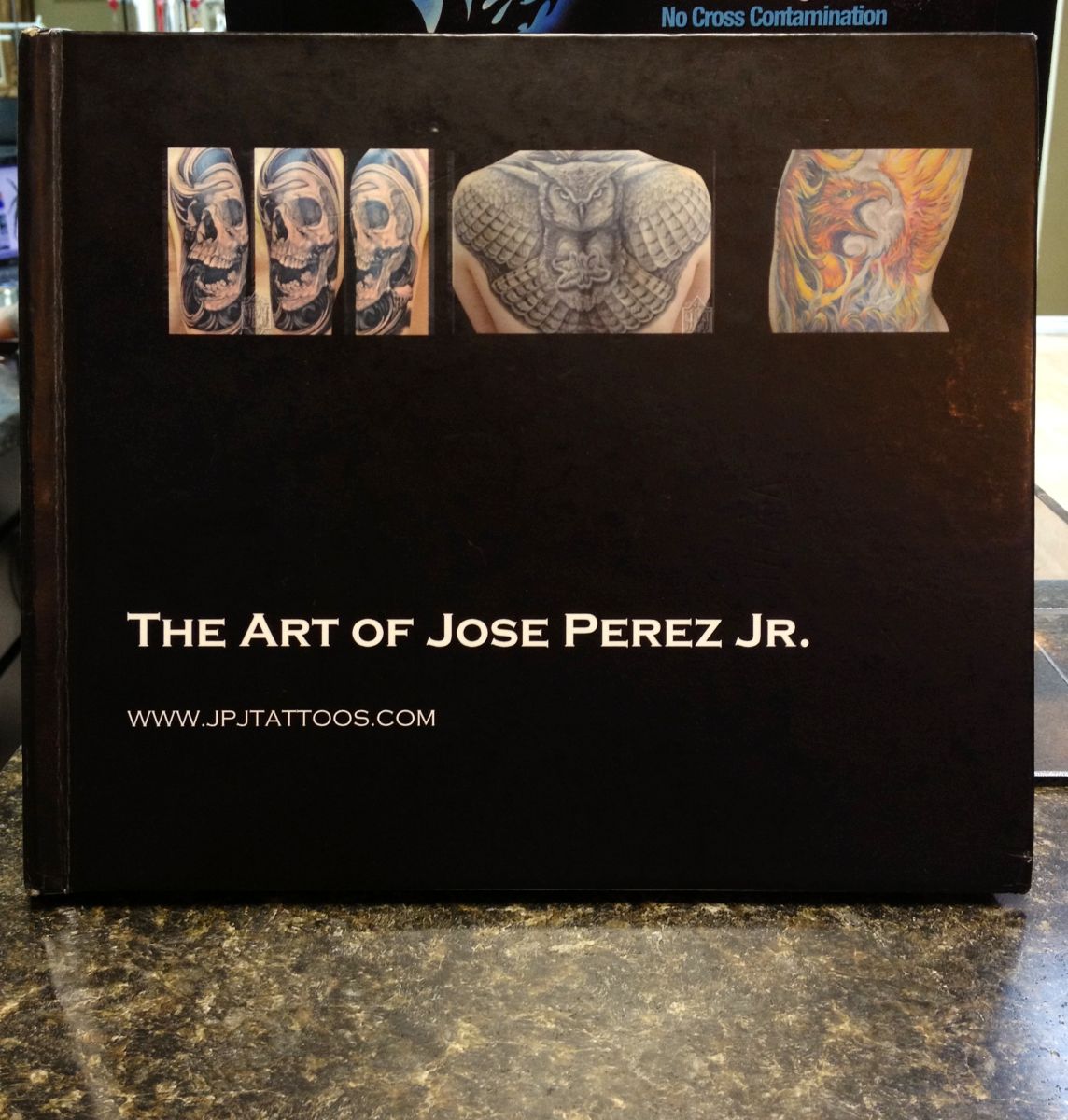 Presentation is also important. when you're working on your portfolio, you want to make sure that you have great presentation utilizing the best photos of your tattoos and showcasing your best work. You'll want to always try to focus and zoom in on your tattoo to see actual detail. Use 1-2 tattoos per page at max, don't squeeze 10 pictures on one page because you won't capture the fine detail in each one. Always go with a nice book that you can get printed online. Check out blurb.com, it takes a little time but makes your work look presentable and professional as fuck. Also think about using an iPad or tablet, but make sure you get a chain or a metal wire cable with a combination lock so you can remove it when needed. This ensures that no one walks off with it.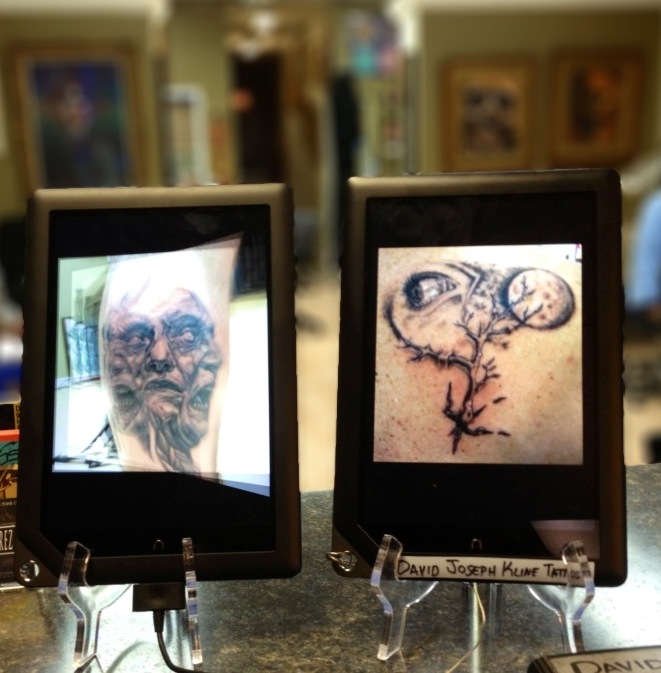 Again, I can't stress enough that one of the most important things is your portfolio, and that you put 199% effort into each one of your tattoos. Make sure that each tattoo is your best work, because if your work is good, it will be your best salesman. So, one more time: #1 step to be a succesful tattoo artist is....
Portfolio PORTFOLIO
PORTFOLIO
PORTFOLIO
PORTFOLIO
PORTFOLIO!!!!!!!!!!!!!!
Hope this advice helps you!
JOSE PEREZ JR
Booking an Appointment
The best way to go about booking an appointment with Dark Water is first and foremost, picking an artist whose style is what you are looking for in a tattoo. After that, you and your artist will have a consultation. During this you will go over style, design, size, and cost. We then require a deposit, which may very depending on the tattoo and artist. That deposit guarantees your appointment time and ensures that the artist has time to prepare the drawing. The deposit charge also goes towards the final tattoo cost and is not an extra charge.
-Dave Kline
Stylus Tattoo Machines
"I just picked up the new Stylus rotary machine, it's very versitile and seems to be designed for the everyday tattoo artist at a very competitive price. It has minimal moving parts and feels like a strong, solid machine. It comes in two models; hard and soft. I got the hard model because it seemed more versitile and I don't like to layer colors too much. It saturates the skin very quickly and it suits my style of tattooing more than the soft model. It has a 4mm stroke length and direct drive which allows for easy one pass lining with three to nine liners. The grip twists which allows for easy adjustment on stroke lengths. It also works well with mags all the way up to 23 mags. I highly suggest trying this machine to improve on your tattoo style and quality."
-Josh Herman
"So check it , I had bought the stylus going into it thinking it would take a while for me to get used to it. Gee golly was I wrong. Its the cats pajamas and the beez-neez. The best effin' tattoo machine I had ever used. A very versitile and consistant machine. I use it for everything from fancy cholo lettering to black and grey and even full color. All done in one sitting. The length adjustment tool on it freakin' rocks my socks. I love adjusting the throw of the needle during tattoos to create different effects. Point black this thing is the shit. Hands down , your shit will look better with it.. If jesus came back as a tattoo artist, you bet your sweet candy ass he would use the stylus. I truly wish I had more hands to give this machine 4 thumbs up!"
-Julian Hernandez
Lo Lo's first tattoo done here at Dark Water
Lo Lo- This was my first real Chicagoland tattoo that I did after moving here and getting hired at Dark Water Tattoos. I did this in front of the Dark Water staff before I got to really know them. They were all looking over my shoulders, including Jose. I really thought that the outcome of this tattoo would determine if I truly got the job here. I will remember this one for sure. Haha!

Ask Dark Water:
Welcome to the first edition of Ask Dark Water! In this article we will ask our artists the most enthralling and captivating questions to get a look inside the minds of the creative geniuses themselves. The question of the day is: "What is your most favorite tattoo you've ever done, and why?"
Garrett Harper- My most memorable tattoo that I've done is a memorial tattoo. It was for a good friend of mine who tragically had someone very close to her pass away suddenly. I hope that this tattoo was able to bring her some amount of closure and help her through a difficult time of her life.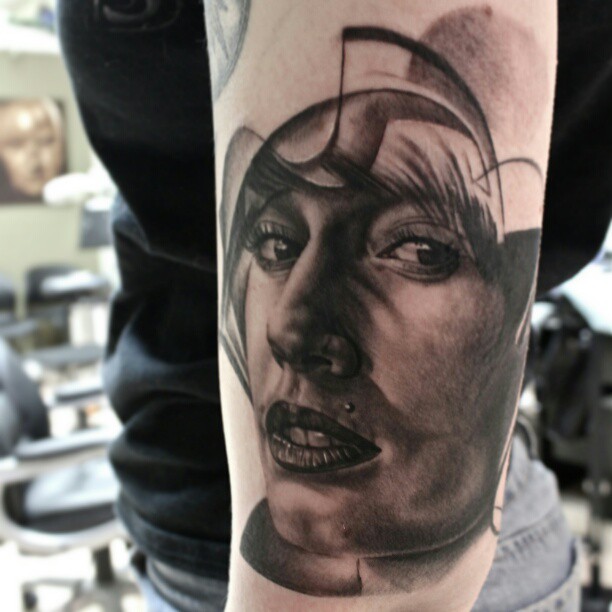 Dave Kline- My most enjoyable tattoo that I've done is a piece composed of a skeleton hand, a bird, and a pocket watch. My client approached me after browsing my portfolio with these personally significant symbols, and admitted that she wasn't quite sure how to tie them together. Because she allowed me the freedom to use my own artistic style to create a totally unique tattoo , I had a lot of fun with it. The fact that she appreciated my work and trusted me to do that for her was very meaningful to me.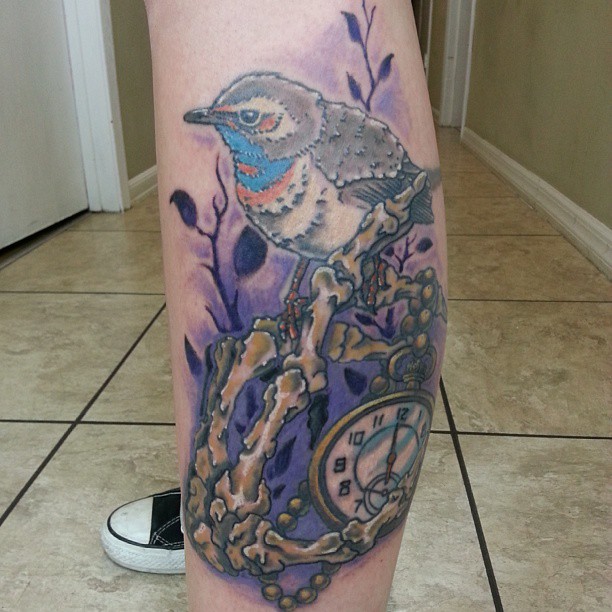 Julian Hernandez- Recently I had the opportunity to do a half skull/half woman. I enjoyed it because it allowed me to portray woman as they really are; soulless cold-hearted skeleton beasts. Just kidding! I love women! In all seriousness, I loved it because it was the type of thing I don't get to do every day and I think it turned out beautiful.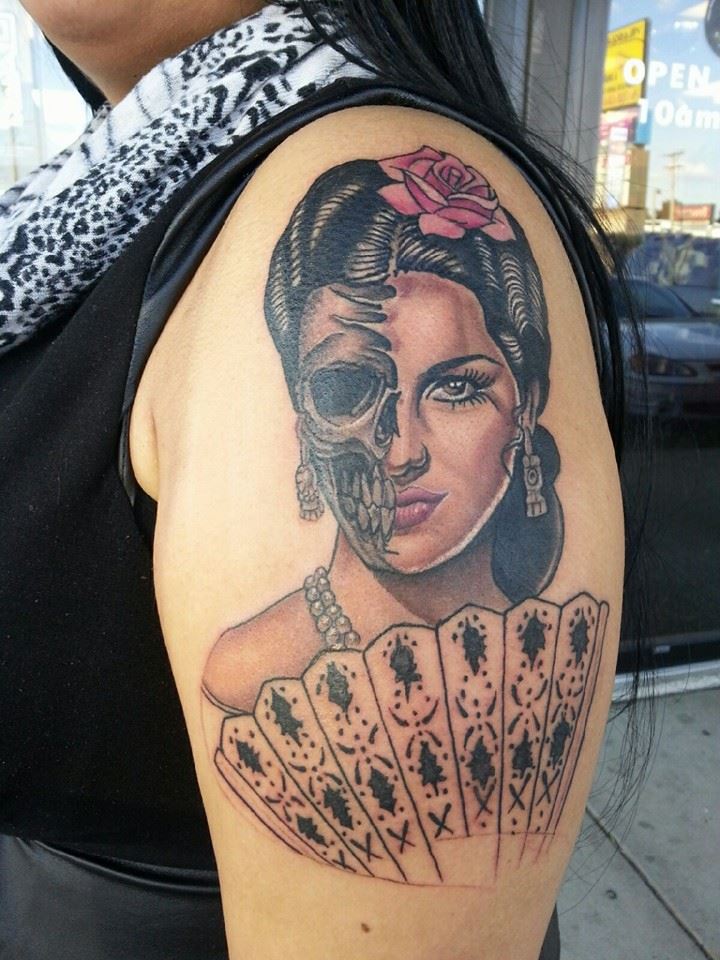 Thanks for checking out this edition of Ask Dark Water!! If there's anything you're dying to know about our crew, feel free to ask and your question might be featured!! The more personal and embarrassing, the better. So get creative! Hope to hear from you soon.
Love, Dark Water Tattoos
Stefano Alcantara visits the Dark Water crew for a collaborative tattoo project with Jose Perez Jr.
The month of October started off with a bang for us here at Dark Water! We had a very special Peruvian visitor by the name of Stefano Alcantara. Stefano is an inspirational artist to us and a very good friend of Jose's. It was very exciting to observe this great talent at work here in our home.
One of the most thriling moment of his visit occurred when he and Jose Perez Jr. joined forces on a collaborative piece. Working simultaneously side by side, these two incredible artists unleashed their powers all over one lucky collector's thigh!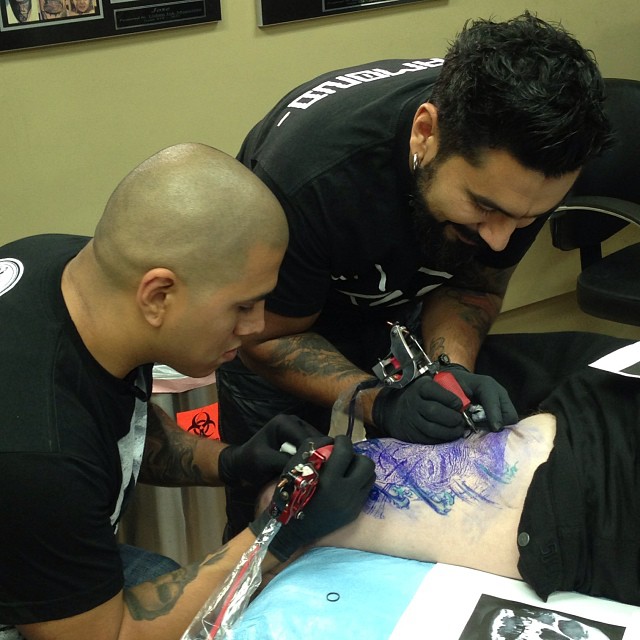 Observing this event was truly a special treat for all involved. These two worked seamlessly together to create an absolutely stunning and totally unique tattoo.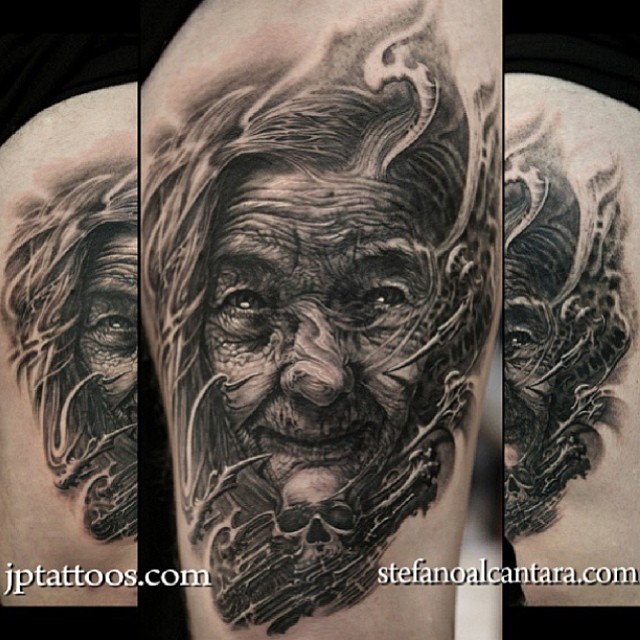 Of course, we couldn't send Stefano home without taking him out for some fun in true Dark Water fashion. Cheers to our new amigo!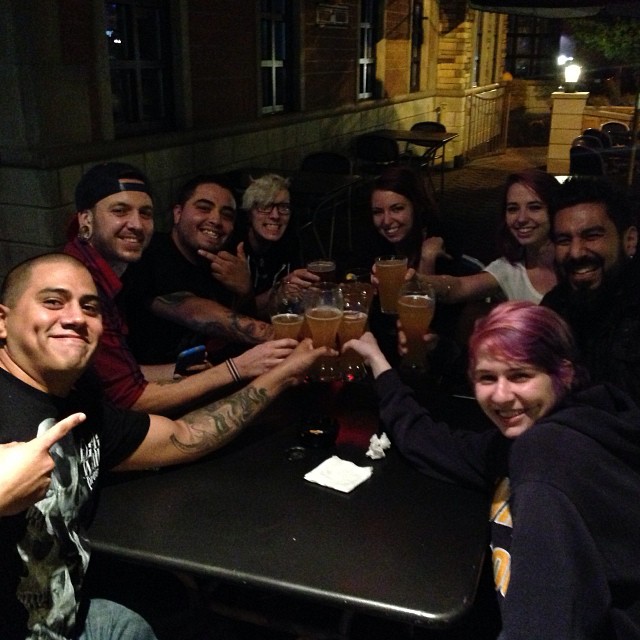 Dark Water Crew at Immersed In Ink
As a team Dark Water Tattoos had an extremely successful weekend at the Immersed in Ink tattoo convention. Special thanks to all of our customers who came out to show their support, we want all of you to know how much we genuinely appreciate it. We wouldnt be here without you! Thanks also to our very good friend Cris Gherman for joining us. We always love having him here in Chicago! As a team we took home 10 awards. Lo Lo brought home best large color, Dennis Kline and Jose Perez Jr. were both awarded 3 each, and Josh Herman took home his own 3, including best ink of the day on Friday. Most importantly we had a lot of fun and cannot wait to do it again!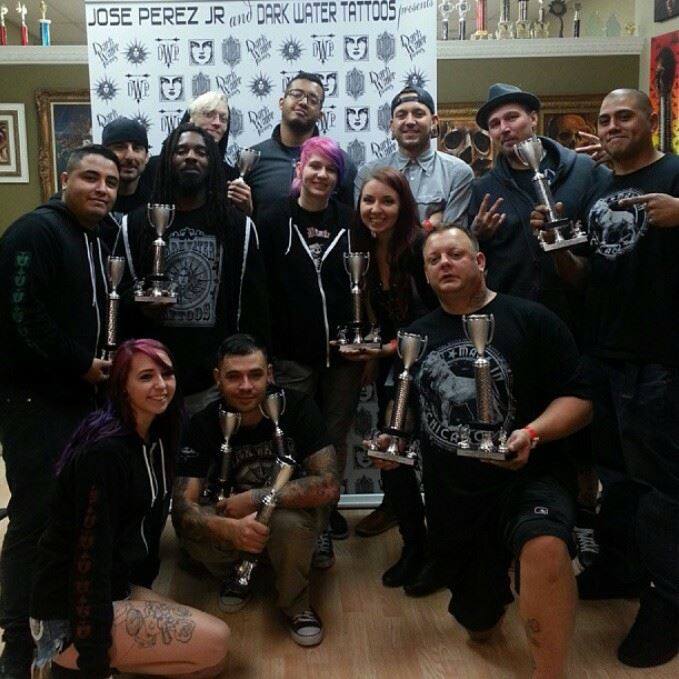 Breast Cancer Awareness Month!
Every Saturday in the month of October we will be offering $30 breast cancer awareness tattoos!
We have a variety of flash that will be chosen from! $5 of every tattoo will be donated to National Breast Cancer Foundation.
Show support and get tattooed!